Please always read the instruction leaflet carefully before doing a pregnancy test.
When ready to test, remove the pregnancy test stick from the foil wrapper and take off the blue cap. Use the test straightaway.

2. Doing the test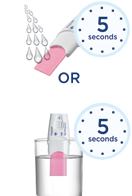 Simply hold the absorbent colour change tip pointing downwards in your urine stream or in a sample of your urine, in a clean dry container, for just 5 seconds.
The colour change tip will instantly turn pink showing that urine is being absorbed. Continue holding the colour change tip in the urine for the full 5 seconds.
IMPORTANT

Keep the colour change tip pointing downwards or lay the pregnancy test stick flat while you wait for the result.
3. Wait for 3 minutes

As the pregnancy test begins to work, you'll see blue lines start to develop.
4. Read your results
You can read your result in the result window. 
A blue line must be present in the control window when you read your result. This line shows that the test has worked.

A 'Pregnant' result may appear in 1 minute when testing from the day you miss your period (which is the day after your expected period). You should wait the full 3 minutes to confirm a 'Not Pregnant' result or when testing before you have missed your period (refer to question 10).
If no blue line appears in the control window within 10 minutes the test has not worked.
It does not matter if one of the lines that make up the '+' symbol is lighter or darker than the other; the result is 'Pregnant'.
Read your result within 10 minutes of doing a test. Ignore any changes to your result after this time.